IT professionals and business owners alike tend to believe that the public cloud is, by default, cheaper than on-premises deployments.
Hold, it one moment: While that's true of some implementations, it's not universal. As there are loads of costs that are hidden or just pop up at you as a surprise. I find it is worth question your the brand/Account Representative you are working with a little bit more to make an educated and knowledgable answer. Think about it when you had to study for Chemistry, Physics, Math come exams in University, Junior College or High School, you would ask questions to come together with a list of answers and use make the best and most practical choice.
So we need to look at at both solutions.
Cloud Services
Cloud Services/Cloud computing is the on-demand delivery of computing power, database storage, applications, and other IT resources through a cloud services platform via the internet with pay-as-you-go pricing.
With cloud computing, you don't need to make large upfront investments in hardware and spend a lot of time on the heavy lifting of managing that hardware. Instead, you can provision exactly the right type and size of computing resources you need to power your newest bright idea or operate your IT department. You can access as many resources as you need, almost instantly, and only pay for what you use.
The issue of this model, is that you need to pay for Network Traffic, Storage Traffic, Storage and Operation Support.
On Premises Services
The costs associated with on-premises total cost of ownership (TCO) are relatively well documented, because we've been doing it for a long time. In short, they consist of:
Hardware costs
Software costs
Maintenance/support contract costs
Operations staff costs
Best of Both World
If you Company/Organization is worried about spending money, then its a good solution to look at a Hybrid Solution. Meaning having both On-Premises and Cloud Services working together.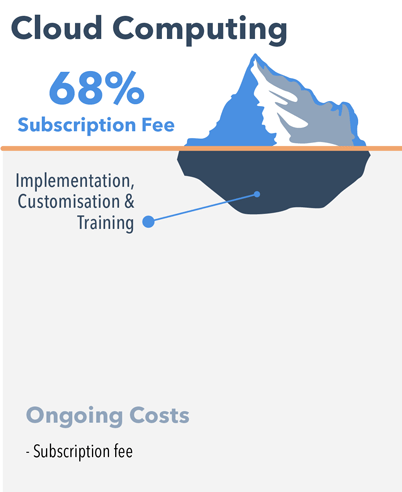 The benefit of this kind of solution is that your corporate/business functions become more flexible and dynamic. As mentioned one of my Previous Blogs (Did you know remote workers), having this kind of solution will increase your employee's performance. At the end of the day if your employees are creative and are performing 100%. Then arent your clients and employee satisfaction increasing.
In conclusion, If you have the budget look in to going cloud 100% as it will bring more functionality to the organization, and this model will only affect your OPEX, not your CAPEX. As when you invest in On-Premises you have have both expenses of CAPEX for the hardware and etc, along side your OPEX cost. And in financial accounting CAPEX, only depreciates over a 3-5 year team. Where Cloud Services, its is all OPEX and the provider is in charge or upgrading and maintaining the hardware. So saving your from head ache and financial burden.